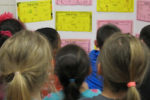 by Susan Hellauer
All Marjan Perry wants is to make Liberty Elementary School a little bit greener.
So the science fair this third-grade teacher started four years ago has a special twist. Along with the student projects and experiments, she got parent scientists, community businesses, and environmental organizations to play a role. The goal: to encourage conservation at home, and careers in the STEM fields. The agenda: to change 500 kids' minds just a little bit.
Sustainable Saturdays, a weekly feature that focuses on conservation, sustainability, recycling and healthy living, is sponsored by Green Meadow Waldorf School, Maria Luisa Boutique, O'D's Tavern and Strawtown Studio.