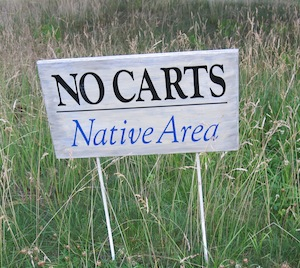 Can A Golf Course Be A Sustainable Space?
by Susan Hellauer
"The myth that all golf courses are pesticide-ridden water hogs couldn't be further from the truth," declares groundskeeper Matt Ceplo, a leaf-packed jar of spectacular caterpillars in each hand.
About 15 years ago he asked Rockland Country Club to green light his plan help native birds and butterflies thrive. Now, Keep Rockland Beautiful gets us insider access to find out how successful he's been.
Sustainable Saturdays, a weekly feature that focuses on conservation, sustainability, recycling and healthy living, is sponsored by Green Meadow Waldorf School, Maria Luisa Boutique and Strawtown Studio.