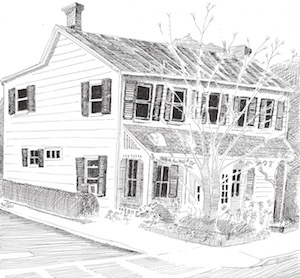 by Bill Batson
Nyack's October 28th parade will be the 4th best fright-fest in the U.S. according to travelchannel.com. How does a community climb to the top of spook mountain?
Win and Betty Perry have been faithfully dispensing tricks and treats from their decorated home in Upper Nyack since the early 1960s, giving backbone to our growing Halloween supremacy that can now be called a bragging right.
The Nyack Sketch Log is sponsored each week by Weld Realty.