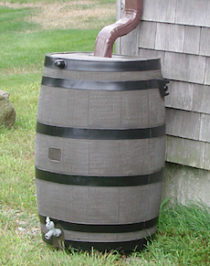 Can Green Infrastructure Make a Difference?
by Susan Hellauer
Green infrastructure uses vegetation and soil to manage rainwater where it falls, unlike "gray" infrastructure, which carries rainwater by pipe to the nearest stream. The common goal of green infrastructure projects is to keep waterways clean, healthy, and out of your living room, by preventing rainwater from overwhelming streams and storm drain systems.
But is green infrastructure a realistic option for results right now?
Sustainable Saturdays, a weekly feature that focuses on conservation, sustainability, recycling and healthy living, is sponsored by Green Meadow Waldorf School, Maria Luisa Boutique and Strawtown Studio.