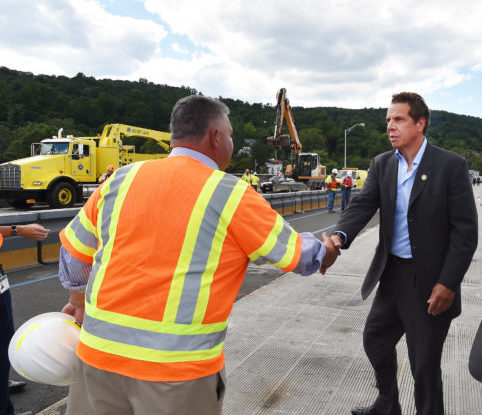 Six of the seven lanes on the Tappan Zee Bridge were reopened at about 8p last night following the mid-day construction crane collapse which halted all traffic on the Tappan Zee Bridge. The southernmost lane on the bridge, which runs from Rockland to Westchester, will remain closed for the immediate future due to structural damage.
"It was a new crane performing a routine task. Sometimes equipment breaks and accidents just happen," said Governor Andrew Cuomo. "We'll know more after [an] inspection."
The Traffic Cams Are Back!
During yesterday's bridge closing, the NYS Thruway turned off the three camera aimed at the Tappan Zee Bridge, leaving only the Eastern (Westchester) and Western (Rockland) approach cameras active. They are back online today. To see what bridge traffic looks like RIGHT NOW, visit NyackNewsAndViews.com/tzbwebcams.