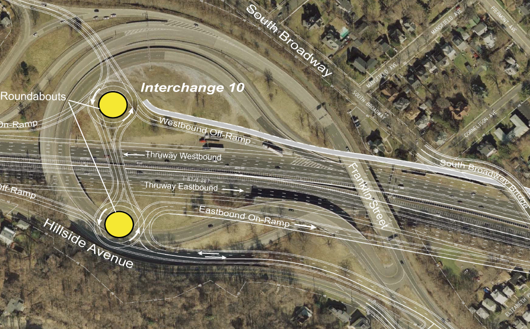 by Arthur H. Gunther III
Ever wonder why there's a 360 degree exit ramp to reach South Nyack on I-287 West after crossing the Tappan Zee Bridge? It's all part of a never executed 1950's plan to connect the NJ Turnpike to the Tappan Zee Bridge.
In a tribute to the 60th anniversary of this vital artery across the Hudson, Nyack News And Views is republishing stories from milestone moments in the life of the Tappan Zee Bridge.
SOUTH NYACK, N.Y. — Ever since President Eisenhower, with German Autobahn images fresh in his mind encouraged by car manufacturers and trucking companies, decided to fashion the interstate highway system, localities — the sort that built small-town America — have not counted as much. This is said to be for the greater good, but in the rush to progress, heritage has been lost and so has respect for humble beginnings.