Parks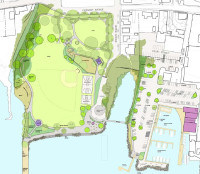 The Nyack Parks Conservancy has been working on a plan since 2008.  It has hired the renowned NYC firm Quennell Rothschild to design the new, expanded Memorial Park.  The Village purchased the property to the north, which includes the River Club Restaurant, and declared it park land.
The fundamental goal of the plan is to use the parking area to the north to replace much of the paved areas in Memorial Park.  Critical to this is the addition of a bridge to cross from the parking area to the park.
A public meeting was held at the Nyack Center on January 21, 2009.  The following two documents were used:
Site Plan — Site Plan — PDF file of the proposal
Presentation — a PDF of the presentation.
Budget Guideline — A preliminary estimate of the project cost.
See also: Parks at NyackNewsAndViews