by Bill Batson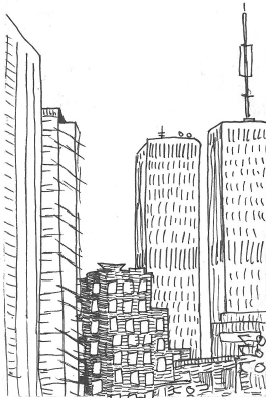 Each September 11th, we cobble together new rituals to comprehend our collective grief.  The more simple the observance the more powerfully they draw us out of our digital silos. We listen to the reading of the names of the dead. We witness twin beacons of light, soaring and somber symbols of the original towers. We observe moments of silence.
There can be something morbid and self-defeating when ceremonies come too close to reenactments. Nyack's Christine Gritmon recently cautioned social media users that we should "please think twice before posting pictures of the wreckage. You think, "Patriotic!" and "In honor of" and "Never forget!" – but that is actively the scene of the death of many people's loved ones. People are buried under there."
On 9/11, for my ritual, I remember my friend John Perry.  I was in New York City that day and was one of the last people to see New York City Police Office John Perry alive.  For some,  revisiting the sadness of the day must be overwhelming, and I respect that.  For me, sharing something about John feels necessary and salutary.
I waved goodbye to John at around 7a on the morning of the attack as he descended the stairs at the 72nd street IRT. He was going to One Police Plaza to hand in his badge and shield and start his life as a lawyer. Not sufficiently fulfilled by police work, he completed law school, passed the bar and accepted a position at a law firm that specialized in civil liberties. Yes, he was a rare bird.
We were working on a political campaign together and had been up since 5a  hanging campaign posters. I walked away from the train station, enjoying the crisp almost autumn air and thinking "what a perfect day for an election and for John to end one career and start another."
John was a star volunteer on the campaign I was managing: Norman Siegel for New York City Public Advocate. Our headquarters was in a store front on 72nd Street between Broadway and Columbus Avenues.
As the planes struck the towers of the World Trade Center, you could hear the cell phone of almost every person walking down the street ring simultaneously, as news of what happened traveled by word of mouth. A crowd formed in front of the hardware store next to our office. People watched in stunned silence as the smoke billowed skyward from the South Tower on TV sets displayed in their window. Others walked to the corner of Broadway to see the actual plume rising from the carnage with their own eyes. I thought to myself, "John is down there, trying to save lives."
Man in the Red Bandana
The Movie
"Man In Red Bandana" (PG13; 80 minutes) is a documentary narrated by Gwyneth Paltrow that depicts the actions of Nyack's Welles Crowther.
Crowther was one of the four Nyack residents who died during the attacks on the World Trade Center 16 years ago. Crowther was a volunteer at Empire Hook and Ladder Company No. 1 and an equities trader at Sandler O'Neill & Partners. He worked on the 104th floor of 2 World Trade Center. First hand accounts from survivors identified Crowther as "the man in a red bandana" who saved them during numerous trips back into the burning skyscraper.
Nyack residents Jon Albert, Stacey Sennas McGowan, Harry Wanamaker also perished that day.
The world premier was at the Lafayette Theater in Suffern, NY,  Sept 6. For more info on screenings visit maninredbandana.com
According to eyewitnesses, John saw the first plane hit while he was leaving One Police Plaza. He was seen buying an NYPD tee-shirt from a street vendor. He needed the shirt because he had just given up his badge, but that didn't stop him from being a cop and doing his job on the day he was needed most. Later, he was seen racing into the towers. He was never seen alive again.
His mother started calling the campaign office around 9:30a. I think I still have several of the phone message slips that campaign volunteers used to record her pleas. She wanted to know if we had seen her son. When I told her that I had seen him heading downtown before the attack, she fell silent. We both knew.
About an hour after the first tower collapsed, a steady stream of men and women, all painted gray from pulverized concrete, with tears cutting paths through their dust covered faces, marched past our store front. They walked aimlessly, like refugees. Some people who lived to the south, in Brooklyn, marched north, driven by fear and confusion.
The Board of Elections cancelled balloting. We comforted each other and some of the wandering masses. News of the Pentagon attack caused a feeling a dread. Were there more passenger plane missiles heading our way? Yet the enormity of it all left us numb, not panicked.
We couldn't send any campaign staff or volunteers home because the bridges and tunnels were closed, so we sheltered in place. Under a sky so cloudless it mocked us, we thought about the man who had walked away that morning and would never come back; a man who was in the end, what he always was: the best of us.
On 9/11, I remember a hero, John Perry.
This sketch log was originally published on September 11, 2011 for the ten year anniversary of the attack.
An artist and writer, Bill Batson lives in Nyack, NY. Nyack Sketch Log: "On 9/11 I remember John Perry"  © 2017 Bill Batson. Visit billbatsonarts.com to see more.